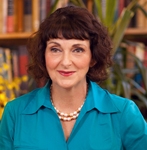 Pauline Meglino, Aesthetic Realism consultant, writes:
Complaint: almost every wife has been given to it, and at times even relished it. She can feel driven to complain and not know why. And often, she can think that if she doesn't let her husband know just how displeased she is, he'll never be any different. Yet why does her complaining make her feel mean and petty instead of the considerate, kind wife she wants to be? And why can a wife feel she's enjoying her complaint, even getting some kind of victory through it?
"Complaint in Marriage: or, Can We Be Both Critical & Kind?" will be the topic of the Understanding Marriage! class on Saturday, March 12th from 11:00 AM to 12:30 PM, taught by consultants Barbara Allen, Anne Fielding, and me.
This practical, cultural class is based on the following explanation by Eli Siegel, founder of Aesthetic Realism: "Marriage is a means for liking the world through a person. Too often, though, marriage is a contemptuous exclusion of the world." Women will learn what is new in understanding complaint: there's a difference between complaint as it's often had, and true criticism. These sentences from Mr. Siegel's Aesthetic Realism and Dissatisfaction will be discussed:
The being able to mingle criticism with compassion is very difficult….One of the reasons husbands and wives can't talk to each other is that two motives, wanting to be critical and also wanting to be sympathetic or considerate, cannot be managed right: if you're considerate you're not critical, and if you're critical you're not considerate. But in the nature of things there is no reason why one can't be both considerate and critical. The problem of being both compassionate and critical is an aesthetic problem, a problem that, if solved, will always be like art.
With style and humor throughout, this class will show: for every complaint there is an ethical criterion. That is: Is a wife's purpose to be disillusioned, disgusted, and superior to her husband and reality itself—a purpose which invariably makes her feel mean and has a bad effect on them both? Or, in objecting to something, is her purpose to be exact and care more for him and the world, a purpose which has her feel she is kind and strengthens them both? And each woman will be seeing that yes, she can put opposites together—she can be both critical and caring. Aesthetic Realism shows this is what all art does, and it's marriage-changing!