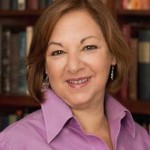 Leila Rosen, Aesthetic Realism associate, writes about this upcoming Public Seminar:
Women (and men too!): Come and have a wonderful time learning about yourself!
"Can There Be Real Love without Criticism?" The Three Persons—Aesthetic Realism consultants Margot Carpenter, Carol Driscoll, and Devorah Tarrow—will answer this surprising, urgent, and, really, beautiful question.
They'll show what Aesthetic Realism makes clear: A woman can think what she longs for is adoration, uncritical devotion. But why, if a man gives it, does she feel 1) he's a fool; 2) she herself is a fraud; 3) she somehow hasn't gotten what she really aches for?  The reason is: a person who loves us wants to encourage us to be as good as we can be—and takes seriously, and wants to be a means of lessening, things we dislike ourselves for. That's respect; it's love—and it's criticism. Aesthetic Realism shows this great fact: without criticism, love is a fake. And the love that's care and criticism at once is the most romantic thing in the world!
The consultants will tell how their own Aesthetic Realism education on this subject changed their lives magnificently. They'll speak about esteemed women in literature and history—and about what women today are learning in Aesthetic Realism consultations.
This will be a thrilling event—don't miss it!
Contri. $10