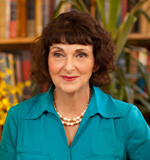 Pauline Meglino, Aesthetic Realism consultant, writes:
A matter troubling wives from the east coast to the west will be addressed with marriage-reviving clarity at the Understanding Marriage! class on Saturday, November 9th, from 11:00 AM to 12:30 PM: "Being Kind & Being Sacrificial—What's the Crucial Difference?"
In this lively, engaging class taught by consultants Barbara Allen, Anne Fielding, and myself, Pauline Meglino, women will be learning to distinguish between what makes a wife feel she is sacrificial, and what makes for honest kindness in married life. "The purpose of marriage is to like the world," Eli Siegel, founder of Aesthetic Realism, stated. "The reason happiness in marriage is such a rare item is that people have tried to love in a way that would mean less of a like for the world—in fact, a contempt for it."
The class will be taking up the following explanation by Mr. Siegel, from his great lecture Mind and Kindness:
The idea is always to feel that in being nice to something, you are nice to yourself. If in being nice to something you are not being nice to yourself, you are sacrificial….Where sacrifice is simply justice, it doesn't have to be called sacrifice. If you give something to another and that person deserves it, even if it is a big thing, it isn't sacrifice in the ordinary sense….One way the large problem can be put is this: how to be kind without limit and at the same time take care of oneself without limit….The purpose of parenthood, friendship, love, is to take care of yourself in a big-time way by being just to another.
At this class, women will be understanding that the crucial difference between being kind and being sacrificial is in our purpose. The class will be asking: As a wife is nice to her husband and does things for him, does she hope to respect him, and be a means of their both coming to a better and more authentic relation with the world and people? Or, does she want to see her husband as needy and unappreciative and herself as superior and ever so noble, putting her needs aside to be nice to him? Through instances from literature and married life, each woman will have an informative, good time learning what it means to be kind and at the same time take care of herself—education that makes possible new kindness and happiness in married life!
The Aesthetic Realism Foundation, 141 Greene St., off W. Houston St., in SoHo, is a not-for-profit educational foundation.  The fee for the class is $10.  For more information, call 212.777.4490.