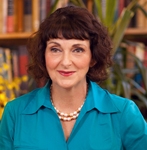 Pauline Meglino, Aesthetic Realism consultant, writes:
Almost every wife has felt that she nags her husband—but also that if she didn't give him suggestions and direction he'd be lost! The assumption behind much current marital advice is that what a wife insists on is correct–all she really needs is the right strategy. However, many a woman is deeply uncertain whether her insistence itself is fair or unfair, right or wrong.
"A Wife's Insistence: What Makes It Right or Wrong?" is what the Understanding Marriage! class will explain at last, on Saturday, June 14th, from 11:00 AM to 12:30 PM.
Conducted by consultants Barbara Allen, Anne Fielding, and myself, Pauline Meglino, this event will discuss the following clarifying sentences by Eli Siegel, founder of Aesthetic Realism, from his lecture Mind and Insistence:
Insistence is what we all do. Like other aspects of mind, it can be good and bad. We have a possibility of insistence on having our way and to hell with everything else. We have also the insistence—which is the good thing in people—on liking ourselves and understanding things.
 A wife can insist on an attitude that she has to her husband, and an attitude her husband should have to her. We have to understand how we can insist on something which is as necessary as a hole in the head.
This lively, practical class will be asking: Is the key thing in the rightness or wrongness of a wife's insistence, whether her purpose is to respect her husband and the world more, or to have contempt for them? There is no more important distinction. And being able to make it not only strengthens a wife and her marriage, but results in longed-for happiness and romance!
The Aesthetic Realism Foundation, 141 Greene St., off W. Houston St., in SoHo, is a not-for-profit educational foundation. The fee for the class is $10. For more information, call 212.777.4490.