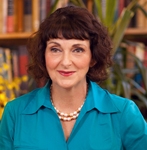 Pauline Meglino, Aesthetic Realism consultant, writes:
A big matter many a wife meets, and one which is the source of worry, resentment, and marital strife, will be explained in the Understanding Marriage! class on Saturday, November 8th: "A Wife's First Family & Her Husband—How Can She Be Fair to Both?" The class is from 11:00 AM to 12:30 PM.
Consultants Barbara Allen, Anne Fielding, and I will conduct this lively, ever so practical event. The Understanding Marriage class is based on the following definitive statement by Eli Siegel, founder of Aesthetic Realism: "Marriage is a means for liking the world through a person. Too often, though, marriage is a contemptuous exclusion of the world."
And central to the answer women will be learning are these important sentences by Mr. Siegel which will be discussed:
There has been a warfare among nations, and there has been a warfare between persons in a woman's first family and the person she may choose for the rest of her life….The large question is: How can one become a better person because certain demands are made on one by a person cared for and other demands are made by a father and mother? That every person you know can be used to see the world better and like it more, is the chief thing. A lover has to be used to like the world; a father has to be used to like the world; and the relation of the two has to be used to like the world. The meaning of relation here is an aesthetic meaning.
That she needs to, and can, use parents, husband, siblings to become a better person, women have not known! With cultural and current instances from married life, the class will show what it means for a wife to use a man and her first family honestly to see the world better and like it more. Women are going to come away from this liberating, down-to-earth event with the happy, new understanding of Yes!—it is really and truly possible to be fair to both!
The Aesthetic Realism Foundation, 141 Greene St., off W. Houston St., in SoHo, is a not-for-profit educational foundation. The fee for the class is $10. For more information, call 212.777.4490.