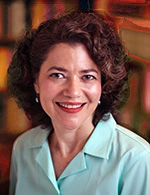 Sally Ross, biology teacher and Aesthetic Realism associate, says:
I love the excitement the Aesthetic Realism teaching method brings to the teaching of science! In the article by Rosemary Plumstead that follows, you'll feel that excitement and see why this educational method is desperately needed. Later in the article, she describes a thrilling lesson in which her students learned about the structure of a leaf and what that structure has to do with themselves. And she describes how they came to have new respect and care for the world and one another. What I learned in the Aesthetic Realism Teaching Method workshop, including from Mrs. Plumstead, enabled me, year after year, to have a successful, ever so good effect on students in my own science classes. This is what every teacher hopes for! The article begins:
Having used the Aesthetic Realism teaching method for over 30 years, I know it is the answer to America's learning crisis. When students—even those who hated science and thought they couldn't possibly pass it—see that the facts we study show the world has a structure that's coherent and related to themselves, they see the subject as friendly, and they learn it! The means is this principle, stated by Eli Siegel: "The world, art, and self explain each other: each is the aesthetic oneness of opposites."
I'll tell about a 9th grade ESL (English as a Second Language) Living Environment class I taught at LaGuardia High School for the Performing and Visual Arts, in Manhattan. The students came from many countries: China, Korea, Yemen, Ukraine, Bulgaria, Ecuador, Mexico, and Colombia. It's very difficult to be in a new country and learn many subjects in a language different from one's own. And it makes me angry that in our rich nation many of these young people suffer because their parents don't have enough money for even necessities. At the beginning of the term, most students didn't have notebooks or filler paper, and when I brought a supply and gave them out, they looked as if they were getting a present. One girl, Paulina, from Colombia, had to sell candy to students in order to help her mother.
Meanwhile, these young people also had that way of seeing which, Aesthetic Realism explains, is in everyone and is the interference with learning: contempt for the world different from themselves. It was in a fight with their deepest desire: to welcome a diverse world—represented by biology and a strange new language. As the term began I saw that those who spoke the same language always sat tightly together, whispering to each other. Students from different countries hardly acknowledged each other's existence. And it was hard to get anyone's attention.
There was Alejandro,* who was exceedingly agitated. He'd talk across the room to his friend Umberto and cackle out loud. At times he would make fun of the Chinese or Korean language and encourage others to do so. He often had no idea what we were studying. One day he asked me, "Can I go to the nurse? Estoy enfermo," and I asked him what was wrong. He said almost inaudibly, "I can't sleep at night." His eyes filled with tears as he told me that his uncle, with whom he'd been living, had been killed during a robbery.
I knew it was urgent for Alejandro and my other students to see sense in the world, and if possible be able to like it, and biology was replete with evidence that they could.
______________
* The students' names have been changed.